Thinking of Creating a Blog but don't know which top web hosting you should choose with minimum budget and Maximum Feature?
Don't Worry, You will Find all your answers Here.
Yes, I am talking about Hostinger. I recommend you to just go with it because it is the best web hosting for beginners.
Do you want to know that why I am so confident about Hostinger?
This is because most of my blogs run on Hostinger and I am fully satisfied with their services. I thought I should share my experience with you.
I know Efficient hosting is very important for your blog success as it lays a strong foundation.
Most of you who want to start blogging don't want to invest any big amount in your initial days.
That's True Right?
Due to lack of knowledge, you end up purchasing hosting which is not offering great services or features that ultimately degrades your blog functionality. This is the worst situation that any blogger can ever face.
Many people say that if you are starting a new blog then you should start with a free web hosting service like blogger.com. But, According to me as a beginner, you should always start your blog on WordPress rather than on any other free option. WordPress allows you to customize your Blog the way you want which is not possible on Blogger.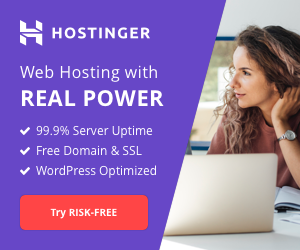 More than 60% of websites are operating on WordPress as there is no coding involved in creating a WordPress website. it has just a pick and drop feature which makes it easy for anybody to create a website on their own. This is why most people prefer WordPress over other.
Remember, A Great Start will always take you miles in your blogging journey.
There are hundreds of top web hosting companies that offer their services but you want only that one which fits your pocket.
Right!!
Honestly, I am a big fan of Hostinger as it is the cheapest web hosting service provider. It can be a great option for those who are searching for top service & features at a nominal price.
So Now, Let's Read out
Important Reasons about why Beginners should select Hostinger
1. The Best Price Ever
What I Like the most about Hostinger is its price. They have set their Price low as compared to other the top web hosting companies like Bluehost, Hostgator & many others.
You will find three types of Web Hosting Packages At Hostinger.
Single Web Hosting Plan ( Basic Plan)
This type of plan is for the people who just want a basic structure for their website. You only need to pay Rs.59 per month (less than 1 dollar) for 48 Months to start your dream blog.
I would suggest you go for an Annual plan where you only need to pay Rs 1400 for 1 year (approx 19 dollars). In this plan, you will not get a Free Domain. You need to purchase a domain separately.
A Free SSL Certificate will be provided in this plan. At the same time, you would not be able to get backups for your site. You will only be able to host 1 website.
I know there are certain limitations in this plan because of this I don't generally recommend this to anybody but those who don't want to add any additional feature to their website they can go for it.
Premium Web Hosting Plan (Recommended Plan)
This is my favorite plan as it offers everything for which any other top web hosting company will charge a hefty amount from you. Here at Hostinger, you get all the basic to advance features at Just Rs 3000 Approx (around 40 dollars) for 1 year. (provided if you take a 12 Months Plan)
This is ideal for those who are looking for top web hosting services at a minimum cost. In this plan, you will get a Free Domain & SSL certificate which is very important for your site security.
You can host 100 websites as compared to a single hosting plan which is allowing you to host only 1 website. You will also get an option to take weekly backups for your site. This is the most recommended option not only for beginners but also for the people of intermediate level.
Business web hosting
As the name suggests it is for those who are operating their site at a very high level. It is generally recommended for people who have an e-commerce site.
2. Money Back Guarantee Scheme
This is also an exceptional Feature that hostinger is providing to its customers. This is the 30 days money-back guarantee program to satisfy their customers. You can take these 30 days as a trial to test their service.
Their priority is customer satisfaction that is why they are providing this type of feature. If for 1% percent you find that Hostinger is not for you then you can get your money back within 30 days from the date of signing up.
The time of 30 Days is enough to decide whether you can take hostinger throughout the year or not.
Trust me, You will not regret your decision after purchasing hosting from them.
3. Fast Page Load
One of the biggest advantages of hostinger is that of efficient site page load speed. it will take only 43 milliseconds to load your complete website. Isn't that great?
Every Blogger who runs a website is always concerned about the page load speed. This is a very important factor because it is directly related to your website traffic.
The more your website loads faster in front of your visitors the more it attracts them towards your website. It is a very important factor in building your website credibility.
Many other companies provide the same feature but at a very high price. At hostinger, you will get all this at a single minimum payment.
4. Desirable Customer Support
Here at hostinger, you get decent customer support. As you handle your website, you always come across some issues or questions related to your site for that they have their live customer representatives that are always ready to solve your query anytime.
Let me tell you about my Personal Experience with Hostinger Customer Support
I purchased hosting from hostinger a few months back & got my free domain which I registered with a specific name. I also installed SSL Certificate on that Domain.
After two days, I realized that I should change my domain name as I got dissatisfied with the current name. I contacted Hostinger to change my domain name & guess what within few minutes I got a reply from one of their representatives.
They asked me some questions related to security & after that, they successfully changed my domain name without any extra cost.
More than that they also provided me another Free SSL Certificate which was the icing on the cake. I am truly happy with the kind the support they have shown towards my problem.
That's how I got my new domain & SSL certificate just for free again. They believe in customer satisfaction & after-sales service. From my practical example, you can analyze how quick & fast their customer support service is, This is all you get with just one single payment.
5. Advantage of FREE Domain & SSL Certificate
If you try to purchase a domain & SSL certificate individually from any other service provider you will observe that it can cost you around Rs 900 for SSL & Minimum Rs 700 to Rs 800 for a domain.
Imagine, Hostinger is giving you all this for Free.
I don't know how they are managing to give all this stuff at this cost maybe their ultimate aim is to satisfy their customer needs at any cost. They are providing everything under one roof. SSL certificate also plays a very important role to rank a website.
6. User-friendly C Panel
Hostinger's C panel is very easy to use. They have designed it in such a way that even the laymen can use it easily. it doesn't use the traditional way of displaying the Cpanel.
They have their c panel in the most informative way. it is best for the people who are not so tech-savvy or they don't want to get into any technical stuff. According to me, it is one of the easiest cpanel in comparison to other top web hosting companies.
7. Uptime is 99.95% Which is Great
It is also one of the most important factors that you see while purchasing hosting from any company. it can make or break your decision-making power to purchase hosting from that particular company. Any person who is likely to purchase hosting from any service provider look for this factor at first.
Uptime is basically for your visitors convienence. it can give us the idea that out of 100 how many times the visitor can access your website smoothly.
After all, We are making our blog so that it can be shown to our visitors easily & Luckily, hostinger has made this work very easy for us. Sometimes their uptime is 100% which is even great. You should not worry about the uptime if you are going with Hostinger.
How to change your Current Hosting Plan at Hostinger?
Hostinger offers the flexibility that if you want to change anything in your plan at any time you can easily do it. You can also shift to any other higher plan when you feel like that your blog is generating a decent amount of traffic.
Initially, you should start with a shared hosting plan & after depending upon the blog traffic you can convert your present hosting plan to any other advanced level like cloud, VPS, or Dedicated Hosting according to your need.
Wrapping Up
Hostinger should be your First Choice if
• You have a limited budget
• You want basic to advanced features at no extra cost
• You want to give a decent start to your blog
• You want Free domain & SSL Certificate
• You want easy to use C panel
it is providing you with all these features and even more than that to run your blog successfully.
I hope this article has given you the right value & information about one of the top web hosting company like Hostinger.
If you are already using hostinger share your feedback with me in the comments below.
Let me know if you have any other doubt or question related to it
I will be happy to answer that…
You should share this blog with your friends so that they can also start their blog with minimum expense and maximum output.
So Now,
What are you waiting for?
See you in the next informative Blog.